Willy 1er - (2016) - Netflix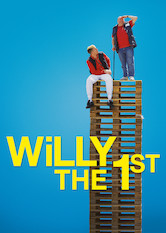 1h23m -
Comedies
Middle-aged Willy's sheltered life is upended by his twin brother's suicide. So he sets out to find his place in the world -- alone, but not lonely.
Director:

Hugo P. Thomas

,

Marielle Gautier

,

Ludovic Boukherma

,

Zoran Boukherma

Cast:

Noemie Lvovsky

,

Eric Jacquet

,

Robert Follet

,

Genevieve Plet

,

Romain Leger

,

Daniel Vannet

,

Alexandre Jacques

Netflix Rating:

6.5/5
Rotten Tomatoes Score:
0/100
Countries Available in:

Not available in your region? Sign up for ExpressVPN to unblock Netflix!

Available Since:
2019-10-19
Similar Titles:

Synopsis
When his twin brother dies, Willy, 50, finally decides to leave his parents' home. He moves to a small nearby town to start afresh. « In Caudebec I'll live. An apartment, I'll have one. And friends too. And you can all go to hell! » Though a misfit, Willy tries to find his place in a world unknown.
Other Titles Being Viewed Right Now