Children of Shatila - (1998) - Netflix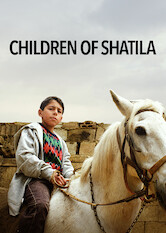 47m -
Middle Eastern Movies
How To Unblock Every Movie & TV Show on Netflix No Matter Where You Are
47m -
Middle Eastern Movies
Fifty years after their grandparents' exile from Palestine, two streetwise kids living in Beirut's Shatila refugee camp document stories of loss and war.
Director:

Mai Masri

Cast:
-
Netflix Rating:

8.2/5
Rotten Tomatoes Score:
NA
Countries Available in:

Not available where you live? Learn how to unblock Netflix & watch this title.

Available Since:
2021-10-14
Similar Titles:

Synopsis
Living in Beirut's Palestinian Shatila refugee camp two streetwise children Farah and Issa use their imagination and creativity to come to terms with the realities of growing up in a refugee camp that has survived massacre siege and starvation.
Other Titles Being Viewed Right Now